There are two types of fans in the world, Keith and The Girl Fans and all the rest.
Check out these very real tattoos and see what makes KATG fans different from everyone
else. When the robots attack, hide behind these guys.
An amazing 151 tattoos and 3 brandings have been put to skin.
Mike the Intern: Cut and branded
Megan sears HUAR into her flesh
The iron used to brand Megan
Cody puts his surgical cauterizer to work for branding #3
Jeremy and Roman are the first two to get ink
Jeremy
Roman HUAR!
Jen V catches the fever and gets one on the shoulder
Jason Penopolis and Cristal innovate with one seen only under a black light
Jason on the wrist (visible under normal light because it's still fresh and
scabbed)

A close up of his wrist under the black light

Cristal with a black light shining over her hip
Rhian got hers on the lower back during Keith's annual stand-up show

Dr. Mitch
DaHonay and Mr. DaHonay
Cubby
DevilishOne and Kataish get ready for battle before the KATG invasion of Canada
DevilishOne

Kataish

Rob gets this tattoo to remember his one night stand with KATG in Canada
John from Dayton
Jeremy #2 gets tattoo #15
Mr DaHonay joins the HUAR Army with his second KATG tattoo
Mr DaHonay adds to his masterpiece
SeriousCarl rings in 2008 from Iraq with a homemade tattoo gun and KATG
Ready for action
The homemade tattoo gun
Lou makes KATG his second and best tattoo
FireFighter_Chick brings podophilia to KATG
AiNE gets a snake bite on her back
Aldo McGee goes from putting KATG stickers at Starbucks drive-thru's to tattoo
#21
Robots beware – ScubaSteve is patrolling the waters
Revolutionary makes up for not posting on the forums enough
Jenni keeps the family in check with a little help from KATG
Luke celebrates his new success
Maryanna's ankle tattoo makes #26
Hunter remember his stint in jail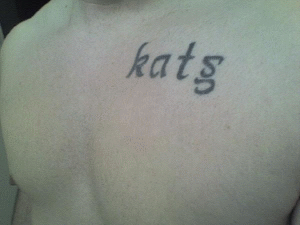 The "tattoo gun" Hunter used
Ryan celebrates life
Tara the robot hating kindergarten teacher
Danni sexys up her wrist
Mat lets the robots know what hit them
David fights the good fight with Tattoo #32
The Gunner: First Iraqis, now robots
You can't take Travis from behind
Checkers keeps it real down in Hawaii
Viola adds a little more class to the party
Stand-up contest winner Allison Pound
Amy wears KATG in style
Heather wont let Amy one up her
In fact, Heather Super Party's her way to Tattoo #40
Elvis & The KATG Mural: Tattoo #'s 41-48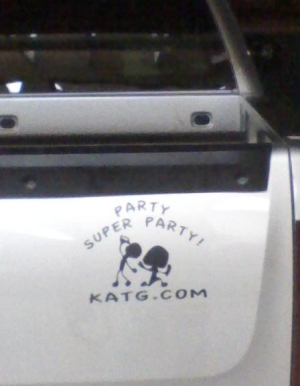 Steve O. is ready for a coloring this month
Bryan personalizes his passion
Jerry reminds us The Clan's only growing
Arrrrrrrrrrrrrrrrrrrrg
John from Scotland tells us what the craic is
Bekah joins the fight from Wisconsin
Jesse doesn't just talk the talk
Amanda shows off her new celebration of Life
Alan shows he's one of the good guys
Layne rocks KATG on his upper arm
Rose has Tattoo #60 and Keith finally has his bear
Roses' man Tom is ready for action
Ben knows what time it is
Yale rocks the ribs
Rob simply rocks it
Boontar rages war
Mike shows the party never stops
knucklehead32 is suited up
YOINK!
David parties with KATG Tattoo #69
Nerdist and KATG Tattoo #70
Elvis is making it personal
Jill celebrates Life
Deandre keeps the peace
Ro keeps the faith
KATG Tattoo #76
Mia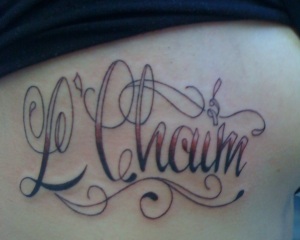 Cesar, Hebrew, and KATG Tattoo #78
Alan and KATG Tattoo #79
Michelle and KATG Tattoos #80 and #81
Jordan, his daughter, and KATG Tattoo #82
Allen and KATG Tattoo #83
Jason, Kelley, KATG Tattoos #84 and #85
Cristal parties on? Fuck yeah! Suck yeah!
Alex understands the situation. HUAR!
Benji, Keith and Chemda
Greg keeps it Straight Edge and very real
CASHMONEYHUGS spells it out
Nathaniel and KATG Tattoo #91
Cody and KATG Tattoo #92
David is all about Team KATG
Susan lives life one step at a time
Wendy and KATG Tattoo #95
Tamara cheers to Life
Can you imagine? Elvis can!
Jamie, Keith and Chemda
David, his right thigh and KATG Tattoo #99
Cody and KATG Tattoo #100
Daisy Titanic D.I.Y.
Ryan! HUAR!
MoMonia raises her glass
What's My Name? It's Dave
Trisha shows the world her friends
Jason, Life, and Arms of Steel
Jeremiah is on fire
Anne keeps on truckin'
Amanda keeps it sexy with KATG Tattoo #110
Elvis never left the buiding, baby
Elvis, Jr. shows dad how it's done
Jen celebrates life and her family
Keith's got it and he flaunts it
Paul ain't no slouch himself
Shannon likes KATG, no butts about it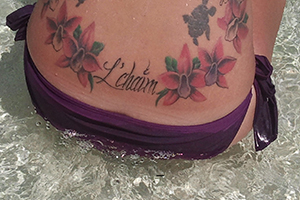 Kimberly Ali's got life goin' own!
Who needs a wife?! Adam begins anew.
Victor Varnado takes a page from HUAR
Siblings Mike & Kesha with KATG Tattoos #120 & #121
Craig joins The 54-Hour Marathon with his fresh tattoo
We're high on Molly!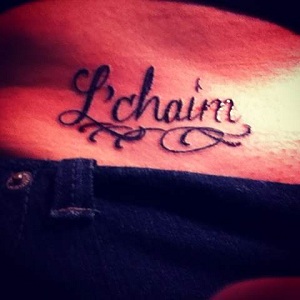 Izzy. Izzy awesome? I'd say so.
Jorge celebrates growing up with KATG
Cory creepily shows his love of KATG and beer
Longtime listener Maria shows her strength
as does Thom with KATG Tattoo #128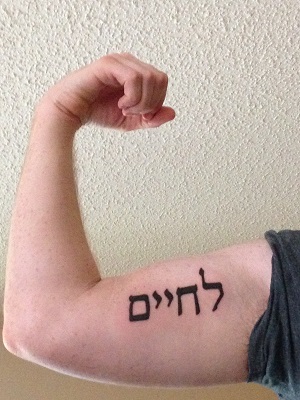 Allison's livin' a sexy Life
David's My Name Is Keith tattoo. That's how we do it over here!
Toni phonetically celebrates Life
Octavia is branching out
Kayla lives it up!
Nadine flies high
Barbi keeps her feet on the ground with KATG Tattoo #135

David celebrates That's the Show with Danny
Josh toasts life and his son's birth

Airman Maria completes her arm
Stephanie lives Life whether Life likes it or not.
Nichole is launching into greatness with KATG Tattoo #140

Maddie's got it, and she flaunts it!

Jenny shows some love

Sarah celebrates Life and KATG
Joe thanks his dad for recommending KATG
Boris, listener since age 15, dons KATG Tattoo #145
Toni will not be oppressed! To Life!
Beth shows love with KATG Tattoo #147
Tech genius Andrew celebrates Canada and KATG
and gets a KATG shirt on the NHL Stanley Cup
Jeremy remembers to take life One Minute Ata Time
Paige relaxes with Chemda the Pothead
Octavia continues the OMAT practice with KATG Tattoo #151
Nature plays her part
Eats Paste makes sure the road knows who's in charge
Not so fast robots, this car is ours HUAR!
NOW I understand civilians having a personal arsenal!
Jason and the US Air Force tattoo the enemy's face

Deuce tells Hezbollah guerrillas what needs to be done

Flown in KATG's honor over Iraq

Flown in KATG's honor over Afghanistan